NBC-HIS Pre-Exam Course for Hearing Professionals
For: NBC National Competency Exam (NCE)
National Board Certification Exam

"An electrifying Pre-Exam Course recorded Live to help Pass Your NBC Exam!"
Passing the National Board for Certification in Hearing Instrument Sciences (NBC-HIS) National Competency Exam (NCE) earns experienced dispensing Hearing Healthcare Professionals the distinction for demonstrating the highest degree of proficiency in the Hearing Instrument Sciences.
Released in 2019, the All New NBC-HIS Pre-Exam Course for Hearing Professionals available Online or USB, captures a live & exciting seminar learning experience that covers the latest test content found on the NBC-HIS National Competency Exam (NCE).
The Pre-Exam Course for Hearing Professionals includes a Main course book, Supplemental book, Course Additions periodically updated to reflect latest exam changes, and more than 200 current sample exam questions.
Course materials also include a Final Exam that that was developed to strengthen the learning experience, and when submitted provides professionals with a Certificate of Completion suitable for framing. (Please refer to the Final Exam page for more details)
Purchase price: $595
(Includes Free USPS Priority or FedEx delivery for ALL course materials including Online option)
*The NBC course materials to prepare for your NBC Certification Exam are very similar to the course materials to prepare for the Hearing Aid Specialist or the International Licensing Exam for Hearing Instrument Specialist (ILE).
Course content includes the following subjects
Pure Tone / Suprathreshold Audiometry
Speech Audiometry
Masking
Physics of Sound
Infection Control
ANSI Performance Measurements / Electro-acoustic Analysis
Matrix
Acronyms & Definitions
Tuning Fork Tests
Otoscopy
CROS /BiCros
Tympanometry, Otoimmittance, Acoustic Reflex
Cerumen Management
Verification & Validation
Sound Field Testing
Real Ear / Live Speech Mapping
Anatomy
Physics of Sound
Ear & Hearing Disorders
Ear Impressions / Bracing Techniques
Audiogram Analysis
Prescriptive Formulas
Programming
Device Styles / Implants
Circuitry
Fitting Applications
Servicing & Troubleshooting
Delivery & Counseling
Sample Exam Questions
Much More!
New for 2019!
Preview Video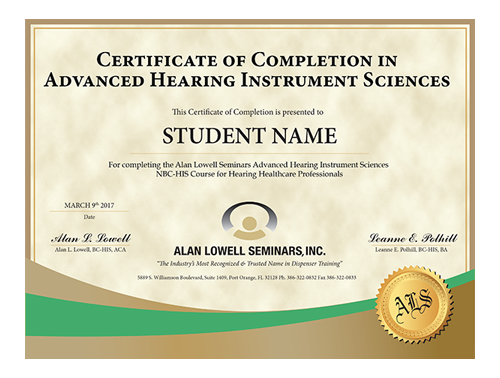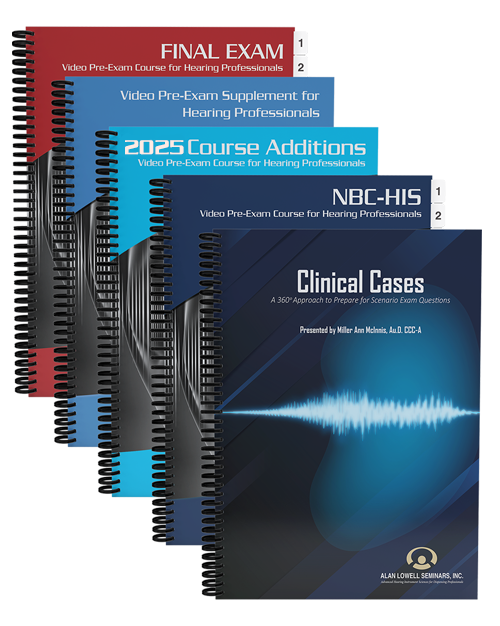 PURCHASE