Hearing Aid Specialist State Licensing Pre-Exam Course
For: International Licensing Exam (ILE),
Hearing Aid Specialist State Licensing Exam

"An electrifying Pre-Exam Course recorded Live to help Pass Your Exam!"
Released in 2019, the All New State Licensing Pre-Exam Course for Hearing Professionals available Online or USB, captures a live & exciting seminar learning experience that covers the latest test content found on the International Licensing Exam (ILE) offered in 46 US states and 6 Canadian provinces, as well as all other state's Hearing Aid Specialist Licensing Exams also known as the Hearing Aid Fitters Licensing Exam and Hearing Aid Dealers Licensing Exam.
The Pre-Exam Course for Hearing Professionals includes a Main course book, Supplemental book, Course Additions periodically updated to reflect latest exam changes, and more than 200 current sample exam questions.
Course materials also include a Final Exam that will not only strengthen the learning experience but, when submitted provides professionals with a Certificate of Completion suitable for framing. (Please refer to the Final Exam page for more details)
Purchase price: $595
(Includes Free USPS Priority or FedEx delivery for ALL course materials including Online option)
Course content includes the following subjects
Pure Tone / Suprathreshold Audiometry
Speech Audiometry
Masking
Physics of Sound
Infection Control
ANSI Performance Measurements / Electro-acoustic Analysis
Matrix
Acronyms & Definitions
Tuning Fork Tests
Otoscopy
CROS /BiCros
Tympanometry, Otoimmittance, Acoustic Reflex
Cerumen Management
Verification & Validation
Sound Field Testing
Real Ear / Live Speech Mapping
Anatomy
Physics of Sound
Ear & Hearing Disorders
Ear Impressions / Bracing Techniques
Audiogram Analysis
Prescriptive Formulas
Programming
Device Styles / Implants
Circuitry
Fitting Applications
Servicing & Troubleshooting
Delivery & Counseling
Sample Exam Questions
Much More!
New for 2019!
Preview Video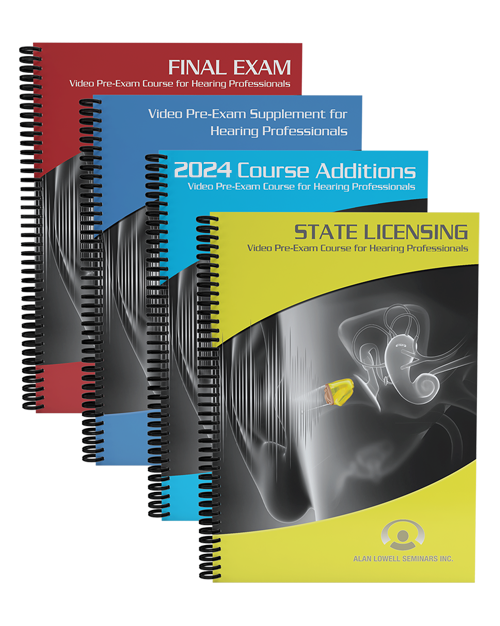 PURCHASE